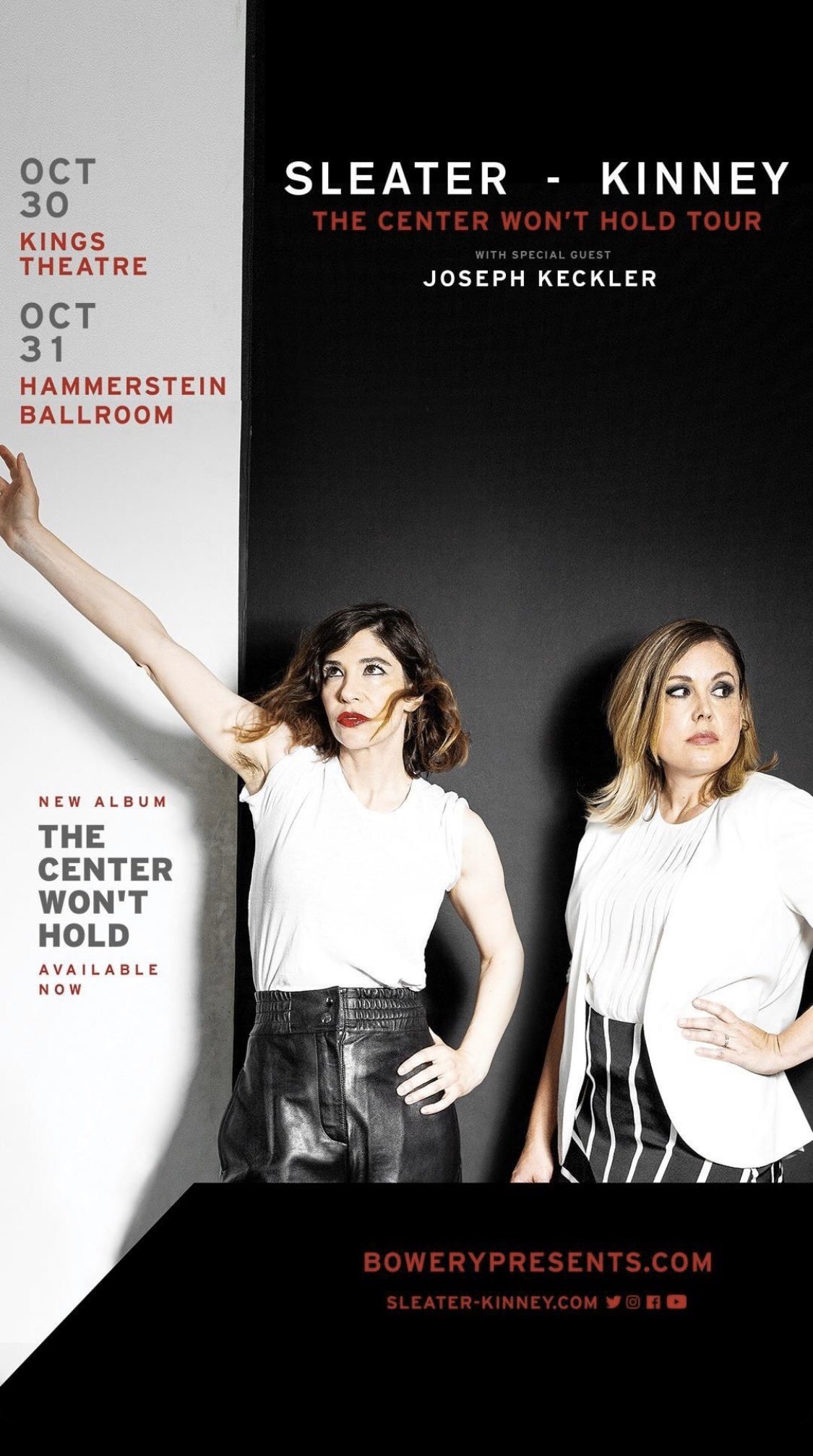 In support of their underrated new record
The Center Won't Hold
, Sleater-Kinney played Brooklyn's Kings Theatre for their first of two New York City shows.
Sleater-Kinney have had the odds against them since they announced their new record earlier this summer when shortly afterwards, long-time drummer Janey Weiss left the group. Was it Annie Clark aka St. Vincent's sleek production on the record? Was Carrie Brownstein taking too much creative control? These questions clouded fans heads for months leading up to the albums release and as of now, I'm honestly still unsure what the final tipping point for Weiss was, but regardless, the band shouldered on. Acting as primarily the duo of Carrie Brownstein and Corin Tucker, the legendary band is now on tour with the help of some additional musicians to carry on their legacy. An epically long set was half comprised of the entire new album plus recent single "Animal" and half various singles from their illustrious career. Carrie and Corin were triumphant in their return and still did their best to keep their status of the queens of rock and roll firmly in place. Now playing with a new drummer and two additional guitarists/keyboardists, the band feels much more full on stage, but still leave all the showmanship to the original front women. Brownstein has an unparalleled energy and her intensity is without question the main focus of the show, matched perfectly by Tucker's uncanny vocal skills. Between the two of them, the band is an absolute force of nature leaving absolute destruction in their wake. Carrie struts across the stage swinging her guitar like a battle axe and face planted into Tucker's shoulder at every possible opportunity, proving their eternal bond as bandmates. While this particular show felt a bit bogged down by poor acoustics and a lot of new material, it was clear that these two women were going to leave nothing to chance and played as if their lives depended on it and they still had something left to prove to anyone who could possibly be an unbeliever in their talents. From windmill guitar strums to high kicks to absolutely shredding solos, Brownstein was front and center to command attention. There's no question that she is without a doubt one of the best performers in the game and seeing her unleash such incredible power is something everyone should be lucky enough to witness in person. On the other side of the stage, Tucker belted out a vocal performance that is equally unmatched by anyone else in the business. The dynamics between the two was pure magic, watching them march together across the stage as their chemistry combusted in absolute rock and roll bliss. At one point, Brownstein grabbed the mic and walked into the crowd a la Iggy Pop and commanded total domination over the obsessed crowd. While the new songs didn't receive quite the response the group probably expected, older hits like "Jumpers," "Light Rail Coyote," and "Entertain" crushed the crowd and highlighted the band's earlier brilliance. For the encore, the band played a somber yet lovely "Broken" that rocked an emotional wave over the crowd before an absolutely magnetic rendition of "Modern Girl" firmly confirmed their place as one of the best bands on the planet. For the last song of the night, they whipped out a phenomenal version of "Dig Me Out" which finally got everyone in the balcony on they feet, rocking out to their interstellar powers. I still feel quite lucky to have seen the band on their last go-around (while Weiss was still in the group) in a much smaller venue, but it was still a privilege to see these very rad and modern women showcase their talents to such a devoted crowd.
Set list:
01 "The Center Won't Hold"
02 "Hurry On Home"
03 "Bury Our Friends"
04 "The Future Is Here"
05 "Jumpers"
06 "Reach Out"
07 "No Cities to Love"
08 "RUINS"
09 "What's Mine Is Yours"
10 "One More Hour"
11 "Restless"
12 "Youth Decay"
13 "Light Rail Coyote"
14 "Bad Dance"
15 "The Fox"
16 "LOVE"
17 "Get Up"
18 "Can I Go On"
19 "A New Wave"
20 "Animal"
21 "The Dog/The Body"
22 "Entertain"
--
23 "Broken"
24 "Oh!"
25 "Words and Guitar"
26 "Modern Girl"
--
27 "Good Things"
28 "Dig Me Out"