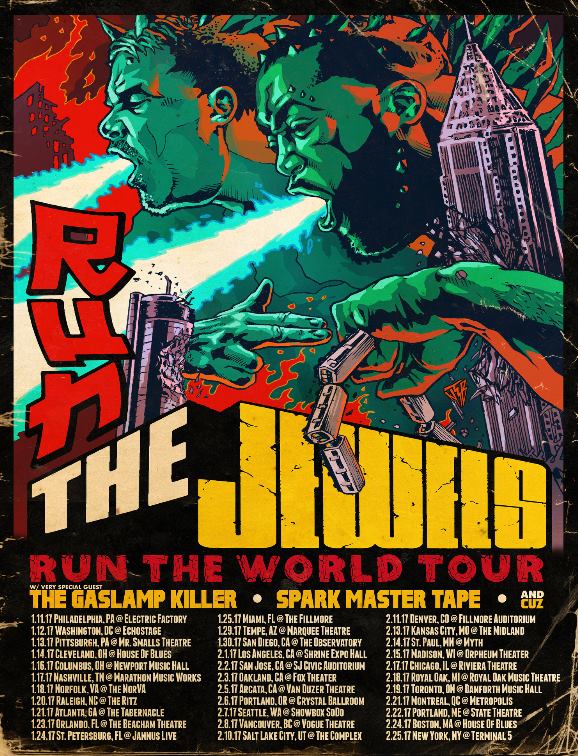 Killer Mike and El-P, the duo best known as Run the Jewels, are about to finish the North American leg of their world tour in support of their great third album with four sold-out shows at Manhattan's Terminal 5.
Run the Jewels are a tour-de-force. Since dropping their debut album/mix-tape back in 2013, the duo have become one of the most celebrated acts in hip-hop, elevating to the tops of festival posters around the world. Prior to joining forces, both Killer Mike and El-P were highly respected artists in their own communities, but neither found the fame they both had earned over their careers. Mike rose-up alongside Atlanta's Dungeon Family, but never really peaked out from behind the spotlight of OutKast and Goodie Mob. El-P reigned supreme as part of New York's underground Company Flow, but never saw any real commercial success. Yet somehow, the two were able to join together in 2012 as El-P stepped behind the board on Mike's masterful
R.A.P. Music
. The rest is pretty much history. Their debut got some love from indie critics and saw them breakthrough in a world that neither star had really imagined, but when the politically charged
Run the Jewels 2
dropped in the fall of 2014, the floodgates truly opened. In the time since, the group seems to have tour relentlessly and seen their fame rise to astronomical heights. In the past two years alone, Run the Jewels has
opened for Jack White at Madison Square Garden
, headlined their first ever
Brooklyn show
, played the main stage at the inaugural
Panorama Festival
and are now in the midst of a four-night sold-out run at Terminal 5. And that's just their footprint in New York City. Despite their relentless schedule, the energy emitted but these two is unparalleled and you'd be hard pressed to find another hip-hop group that gives their all quite like these two. Even after constant years of touring, their ability to give their all night after night is impressive. For their third of four shows in town this week, the crowd at Terminal 5 was maxed out of emotions and ready to let all hell break loose. Killer Mike and El-P were ready for the challenge and showed absolutely no signs of slowing down. On stage, these two breathe fire. Their heart is in the game at 100% and it seems like no one is having more fun than them. Bounding back and forth across the stage, these two men truly give their all and leave nothing on the stage. It's a high octane ride from start to finish and they do a phenomenal job of playing to the crowd wasting little time between songs with unneeded banter. Instead, they let their lyrics do the talking as they play nothing but the hits. Their personalities continue to compliment each other and they genuinely seem to be two best friends swapping rhymes with total power and precision. El-P's apocalyptic beats are hard-hitting leaving the listener bruised and ready for combat. Lyrically, the dexterity between them is a wonderfully complex ebb and flow that never gets stale. They rap about politics, sex, and drugs without making any of it sound like repeated stories and they challenge their listeners with every word they spit. They make intelligent, dense, and spirited music in a time when people need it the most. In some way, it seems lucky that whatever alchemy brought these two together has remained so strong for so long and while these two must relish in each other's friendship more and more with each passing day, really it's the audience that is basking in the glory of two middle-aged men who've finally found their glory.