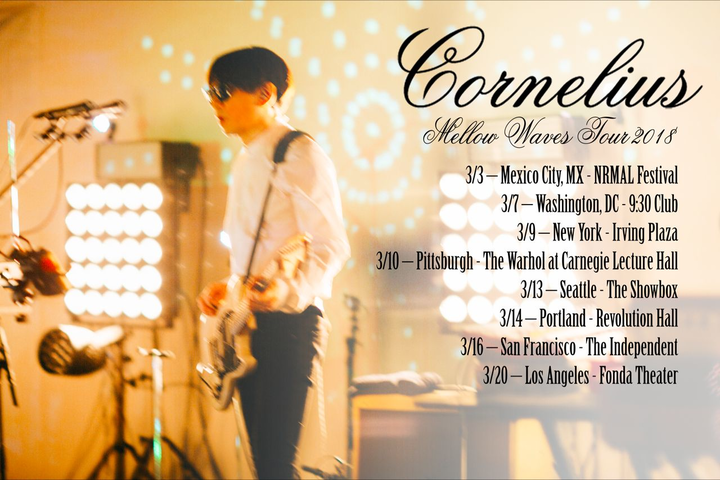 Cornelius brought his Mellow Waves Tour to New York's Irving Plaza on Friday night in support of his first album in over a decade.
Cornelius' 1998 album
Fantasma
is a landmark album that took his career beyond the circuits of Japan and became a staple in any audiophile's collection. If you're someone who is
into
music, it's either a record you cherish or one that should be on your list of records to hear before you die. While he's never exactly been able to recreate the success of that record, Cornelius has spent the rest of his career making music and unleashing an unbelievable live show.Taking over Irving Plaza as a four-piece band, it was one of the most seamless performances I've ever seen. Every song was perfectly synced with unique mind-bending, color-coordinated visuals and the spectrum of music was everything that one could expect. Prog-metal, alt-rock, dream-ambient, psych-folk, lounge, it was all over the place, but done with such control and power that never once did anything feel out of place or beyond the realms of the band's capabilities. There were moments when the crowd would sway in unison, moments to head-bang, and moments to groove to some funk. There was little interaction with the crowd as Keigo Oyamada stuck strictly to rocking out and keeping the show moving at an electric pace. "Count Five or Six" was a massive highlight of the evening and the crowd really felt alive as the numbers flashed on the screen. It was perhaps the pinnacle of the evening in terms of crowd participation and certainly a brilliant moment for those in attendance. For the encore, the band came back with Keigo on acoustic guitar which seemingly through the rulebook out the window and really let the band experiment with their work. It was an unreal finish to an already splendid evening and an early highlight and frontrunner for one of the best shows of 2018.
Set list:
01 "Mellow Waves" Intro
02 "Itsuka/Dokoka"
03 "Point of View Point"
04 "Helix/Spiral"
05 "Drop"
06 "Count Five or Six"
07 "I Hate Hate"
08 "Wataridori"
09 "The Spell Of A Vanishing Loveliness" (Yumiko Ohno on Lead Vocals)
10 "Dear Future Person"
11 "Surfing on Mind Wave Pt 2"
12 "In a Dream"
13 "Beep It"
14 "Fit Song"
15 "Gum"
16 "Star Fruits Surf Rider"
17 "If You're Here"
--
18 "Breezin'" (Keigo Oyamada on Acoustic Guitar)
19 "Chapter 8 -Seashore And Horizon" (Keigo Oyamada on Acoustic Guitar)
20 "E"