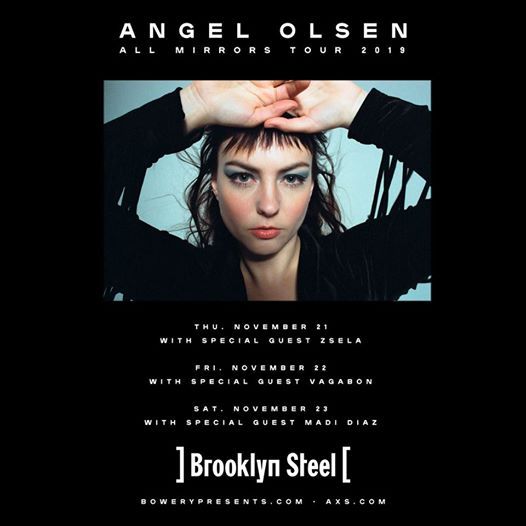 Angel Olsen is in New York for three nights at Brooklyn Steel in support of her excellent new record All Mirrors.
"I'm in a fighting mood tonight" Olsen remarked early into her first of three shows in Brooklyn and the mood certainly felt real. Sometimes the vibe of a crowd can ruin an entire show. Luckily that was not the case Thursday, but it sure came close. People jumping up and down like they were at a club or doing strange interpretive dances to Olsen's remarkable music felt odd and out of place, but the ambiance provided from the band seemed to cancel out the bizarre antics of the crowd. On stage, Angel Olsen led her incredible band through a medley of hits with her stunning vocals taking full focus. On record, it's easy to imagine that some studio magic is helping her voice reach such wondrous heights, but live it is revealed that the magic is all her own. Her tone is rich and full, capturing stupendous range that feels almost too good to be true. How is she capable of conjuring up such impressive sound while quickly alternating to a saucy presence that feels like a total 180 from person she is while performing her songs? She's smart and witty, never taking herself too serious, but still making her music come to life in such a mesmerizing and beautiful way. New tunes like "Lark" and "All Mirrors" felt lush, her string section really taking the tracks to new levels of wonder, but it was old favorites that really brought things home. "Shut Up Kiss Me" was moving and got the audience buzzing with joy. The country/folk twang sound of her earlier work has taken a turn for more ornate orchestrations that at times remind me of
Twin Peaks
, but still feels like the majesty of no one else. Behind her, the band was in on the fun, slightly trolling her throughout the night by starting the riff of Blind Melon's "No Rain" between almost every song, much to the crowd's delight. "Can we just play one of mine? I have a few" she joked at one point, to which the band continued in on the 90s one hit wonder. For such passionate and moving music, it was such a pleasure to see her light-hearted and down right
fun
personality shine through all night long. Sweeping melodies brought along endless sways and really gave the night some touching moments that not even a restless, and at times quite annoying, crowd to their mercy. Seemingly overnight, it seems that Olsen has taken on a career of new height and there couldn't be an artist of the moment more deserving.