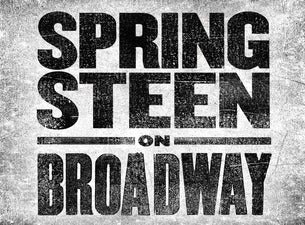 Bruce Springsteen's current run on Broadway is one for the ages and not something that is just for his diehard fans, but anyone who cares about him or music in general. It's a master performance in story telling told through his songs and his own spoken words.
I'll admit that I've never seen the Boss perform live (I did see him get interviewed by Tom Hanks once), so I can't compare his intimate run on Broadway with his legendary marathon shows at the largest stadiums in the country. I can, however, say that this is an event that is straight from a dream. It's his autobiography told between the songs that have defined decades of culture and are essential to the spirit of modern America. He's an icon of blue collar, working class citizens and while he speaks to the truth of their souls, it's not a life he ever knew first hand, but his passion for what he does and his loyalty to his upbringing, family, and fans is magic. He spoke of getting his first guitar, the routine of homework, church, and school, and the respect, admiration, and love he has for his mom, and his desire to runaway from home. The songs were stripped down to their core, but filled the theatre with absolute power that gave them a whole new life. Kicking off with "Growin' Up," it's clear that the night isn't just a concert, but an amazing story telling experience. It's the Boss telling you his life story as he plays his own songs that you wish you could use to soundtrack your own existence. It's beautiful and honest, a glimpse into the life of a man who has been heralded for his representation of hard working America, but also someone who has faced his own share of burden. He speaks of picking up his dad at a bar while still under the age of ten and receiving his draft card in the mail the exact same day as his two best friends. The rendition of "Born in the U.S.A.," played on a twelve-string guitar with a slide ring, was gut wrenching and unlike anything heard prior to this show. Almost unrecognizable, it's a raw and visceral moment, but one of the peaks of the night. Darkness aside, he also reveals his lighter side, saying "I never worked inside a factory, I never worked 9 to 5, I never worked five days a week... until now." Midway through the set he begins to tell his love for Patti right before she joins him onstage for two duets and one of the most touching moments of the evening. As the night begins to hit the home stretch, the Boss goes straight for hits and delivers a solid run of songs with little to no monologue in between the tracks. "The Rising" is an unexpected surprise and a true highlight. This song has aged incredibly well for later day Springsteen and feels like an essential part of his younger fans' memories of his music. He dedicates "Dancing in the Dark" to his mother who is now 93 with Alzheimer's disease, but loves to dance. It's an incredibly touching moment for which the audience really felt engaged, the true climax of the show. Without fail, he closes with "Born to Run" and appeases the crowd in a way unlike so many others. For decades it had been clear that Springsteen is a born entertainer and a man that, without question, loves to be onstage giving his all to thousands of fans. Confined to the Walter Kerr Theatre for thirteen months straight months, however, is something to be treasured as it puts him in an entirely different element, but one that he can still amaze. It's something that still feels a bit like a fantasy even after being able to actually experience it live. At the beginning he talks about how he had hopes and followed his instincts, but really he had some kind of magic that led him towards music and becoming a star. This engagement is a closer look into his magic and his stripped down versions of such legendary songs is like hearing them again for the first time and reliving his magic in a brand new way.
Set list:

01 "Growin' Up"
02 "My Hometown"
03 "My Father's House"
04 "The Wish"
05 "Thunder Road"
06 "The Promised Land"
07 "Born in the U.S.A."
08 "Tenth Avenue Freeze-Out"
09 "Tougher Than the Rest" (with Patti Scialfa)
10 "Brilliant Disguise" (with Patti Scialfa)
11 "Long Walk Home"
12 "The Rising"
13 "Dancing in the Dark"
14 "Land of Hope and Dreams"
15 "Born to Run"