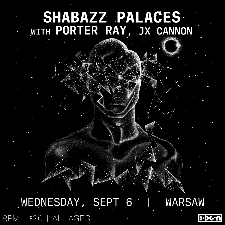 This summer, rap futurists Shabazz Palaces dropped not one, but two full-length records. On a soggy Wednesday evening, the duo touched down in Greenpoint's Warsaw to mystify the people of New York with their eclectic rhythms and verses.
Shabazz Palaces have always played by their own rules. Their view of hip-hop has always been through a unique lens and their live show is just as compelling and different as anything they've put on record. Their beats are dense and heavy, like sonics seeping through tar and their rhyme patterns are anything but traditional. Lead by the intriguing and mystical Ishmael Butler a.k.a. Palaceer Lazaro (formerly Butterfly of the legendary
Digable Planets
) and accompanied by Tendai "Baba" Maraire, the duo has put out several records displaying their keen ears for warped sounds. Their hallmark record
Black Up
still feels like their most accomplished work, but their new tunes still buzz with an incomparable techniques and nuances found nowhere else in hip-hop. To give some perspective, the duo were picked to open for Radiohead at their tour dates in LA last summer, a feat unknown to most in the rap world. As their cosmic rodeo crashed down into Brooklyn, it was a rather small affair, but one that still packed a punch. Highlights like "Forerunner Foray" and "Swerve... The Reeping of All That Is Worthwhile (Noir Not Withstanding)" felt particularly funky and the later was perhaps the most indulgent and groove heavy jam of the night. It also felt like the emotional pinnacle and really got the crowd to jive with the action on stage. Of course the new tracks still left a mark and this summer's stand-out "Shine a Light" was met with particularly high praise. For nearly two hours the wizards performed their magic and trademark sounds on-stage and as the night came to a close, the grin on Butler's face let the crowd know what their support has meant to him, not only for the show, but for his years of service to the scene as well.